May Newsletter
New Uniswap Market, Better Rates for Borrowers, and Hackathons Galore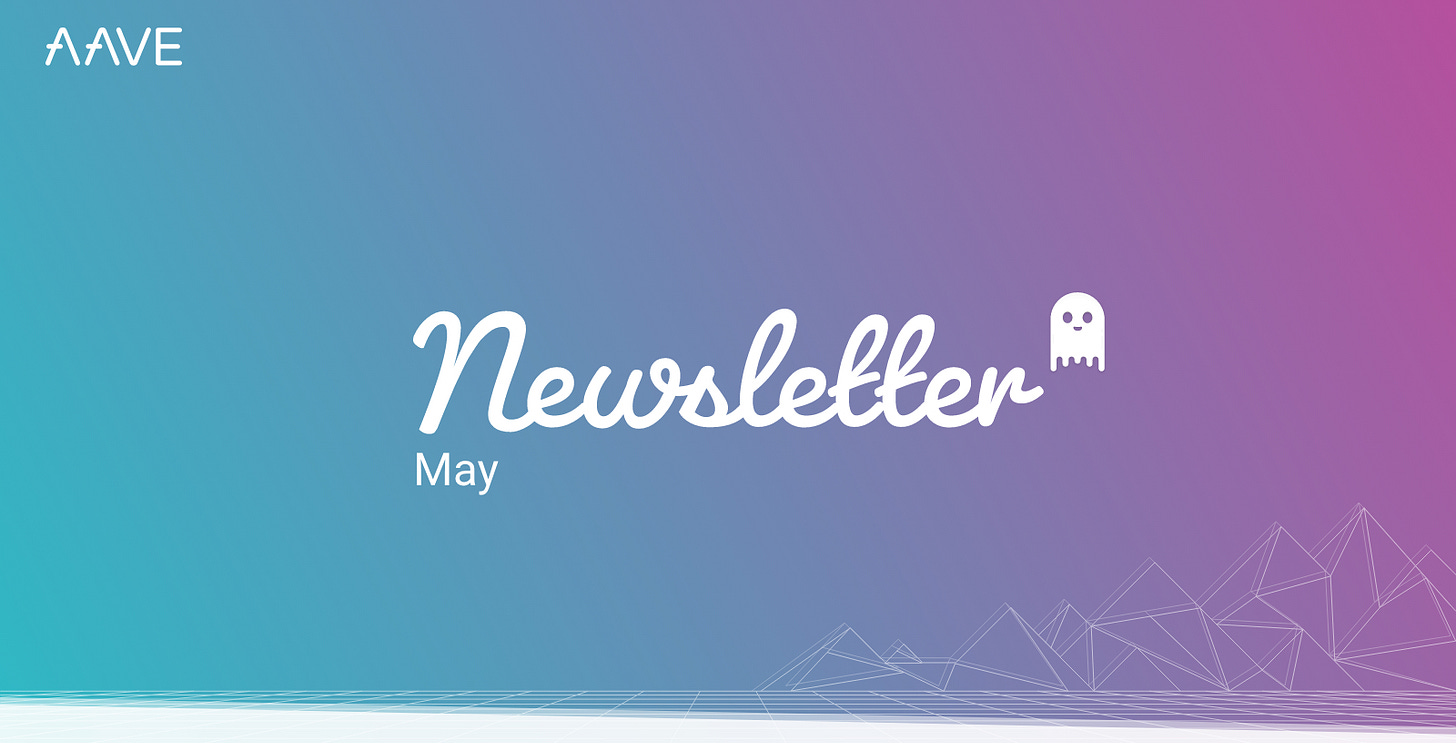 Hello Aave Community! 
Summer is coming and the Aave Dev team is bringing some HEAT with improved variable and stable rates for borrowers and the release of the Uniswap Market on Aave! So much went down in May, and there's much more to come, with even more epic hackathons and events to kick-off your summer the right way. Keep reading for the rundown 😉 
Technical & Development Updates
The Aavengineers recently released some sweet updates that make borrowing rates even more competitive than before! Short and sweet version—we tweaked the interest rate models to fill the gap between the variable and stable rate models, making the new stable rate much more competitive. Read all about the new and improved models here!  
Finally, we released a new money market on Aave Protocol: the Uniswap Market! Now Uniswap liquidity providers can earn interest on their liquidity provider tokens and borrow against them (talk about DeFi composability)! Read all about the new market and Aave's multi-market strategy in our blog post.
This meme from Marc Zeller says it all: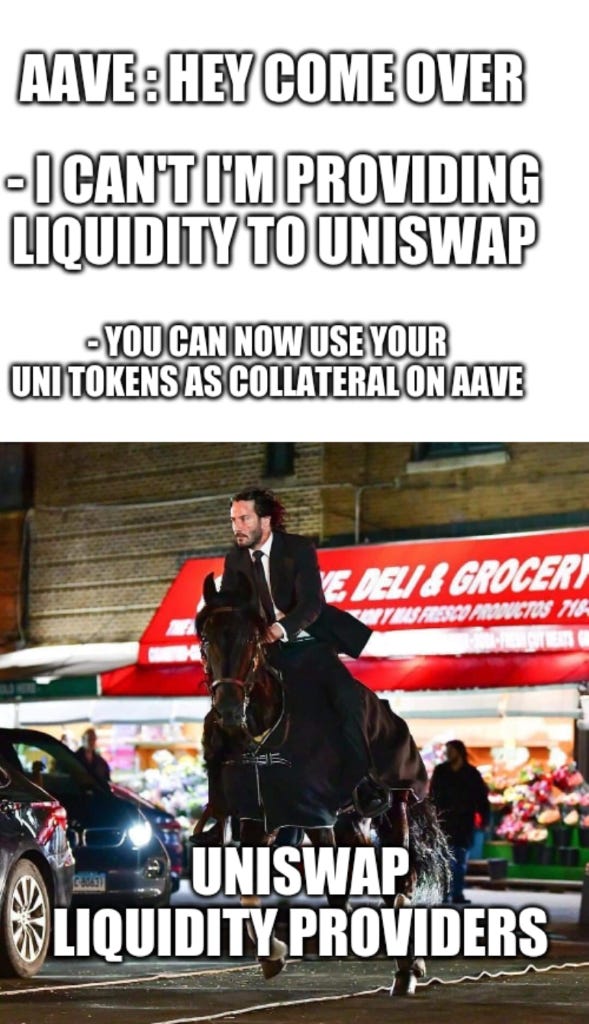 Some are calling this the most ambitious crossover event in history
Events & Community 
This month was jam packed with events and we wouldn't have it any other way. 
Aave Founder & CEO Stani Kulechov gave a talk "Money Market on Steroids" at the Ethereal Summit, where he introduced multi-markets coming to Aave, teased the new Uniswap Market and spoke about the governance model (coming soon!).  
The Aavengers were also at the Dystopia Labs weekend of DeFi Discussions, where Stani joined Stake Capital and Iqlusion for a panel "Theoretical Use of Flash Loans & Attacks With Interoperability". Watch the replay here.  
We had some challenges and prizes at the HackMoney Hackathon and at the NYBW Gitcoin Hackathon! We are currently in the process of judging submissions, but we gotta say—there are so many incredible hacks, with over 50 hacks on Aave at HackMoney alone. Stay tuned the results are coming soon!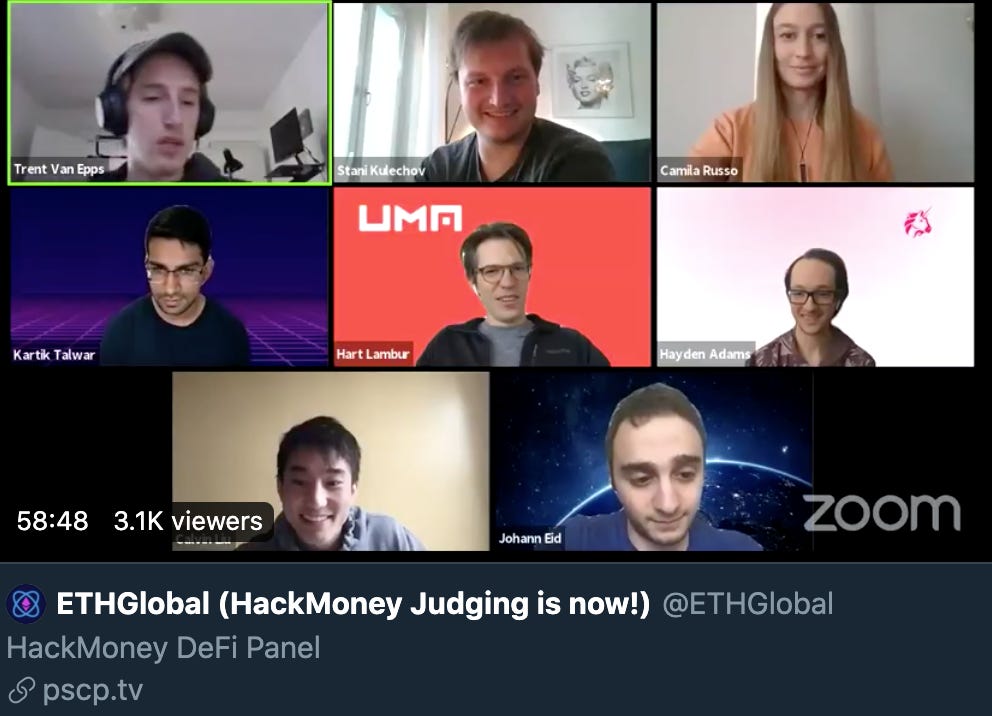 DeFi panel at HackMoney
Finally, just this morning we witnessed the largest Flash Loan ever!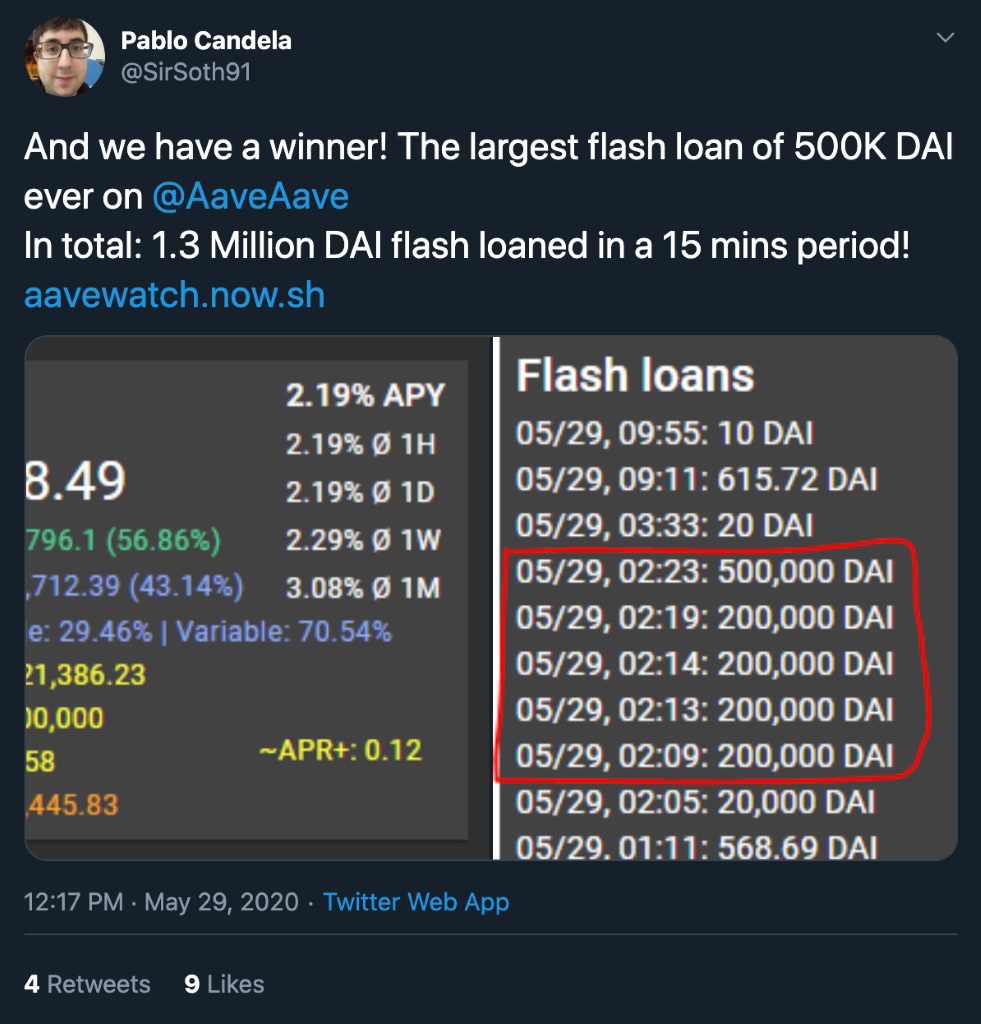 Check out Pablo's whole twitter thread here for the breakdown on how this effected Aave DAI depositors—in short, 80% of the 0.09% Flash Loan fee went to reward depositors, who earned an impressive (and instant!) bonus on top of their expected earnings. Flash Loans should reward depositors, and this is one of the reasons Aave offers higher yields.  
Don't Miss Out On:
This Delphi Digital article on Aavenomics
This Crypto Focus episode starring Emilio Frangella from Aave and Giovanni Esposito from Eidoo (it's in Italian!) 
This Crypto Briefing article about USDt's grand entrance to DeFi through Aave 
This Dapp Pocket podcast featuring the one and only Marc Zeller (for our Chinese Aave Fam, we are proud to sponsor the Dapp Pocket newsletter, bringing you the latest on DeFi in Chinese!)  
This edition of Our Network by Spencer Noon
This DeFi Rate article highlighting the new Uniswap Market  
The Friday Fun Event in the JustDeFi Telegram group. The first challenge is depositing to Aave, and it starts today!  
Integrations
We are excited to say that Aave has been integrated in 2 of your faves: Argent and Eidoo! Using Aave is even easier and more fun than before. 
Other Aavesome integrations from this month include Zapper.fi, Token Pocket, Onto Wallet by Ontology, Jelly Swap, and Yield Hero.  
Join us and stay tuned... 
Up next, we hope to see you at events (on the interwebs) in June! 
Today, the Global SOS Hackathon by Crypto Chicks kicks off! Stani will be giving the opening address at 11 am ET!  
Stani will be joining the HackMoney closing ceremonies as a judge next week on June 2nd from 2-4pm ET.
Be sure to join us and some other DeFi OGs at Southeast Asia DeFi week starting on June 1st that will cover 5 different DeFi technologies in 5 days. Register here. Also on the first week of June, we will be at Mainnet by Messari.  
We will also be co-hosting a Dev Workshop Series with Chainlink, where we will explore the latest hacks on both Aave and Chainlink—can't wait to bring our Dev communities together! More info on that coming soon…
We're hiring!
If you'd like to join the Aavengers, check out our careers page.  
Don't ghost us! Keep up with Aave on Twitter or talk to us on Discord. You speak many languages and so do we-- we also have a Japanese twitter and a Chinese twitter, so give us a follow <3
Cheers,
Aave Team