June Newsletter
$100M Milestone, Bug Bounty Boost, and Epic Events!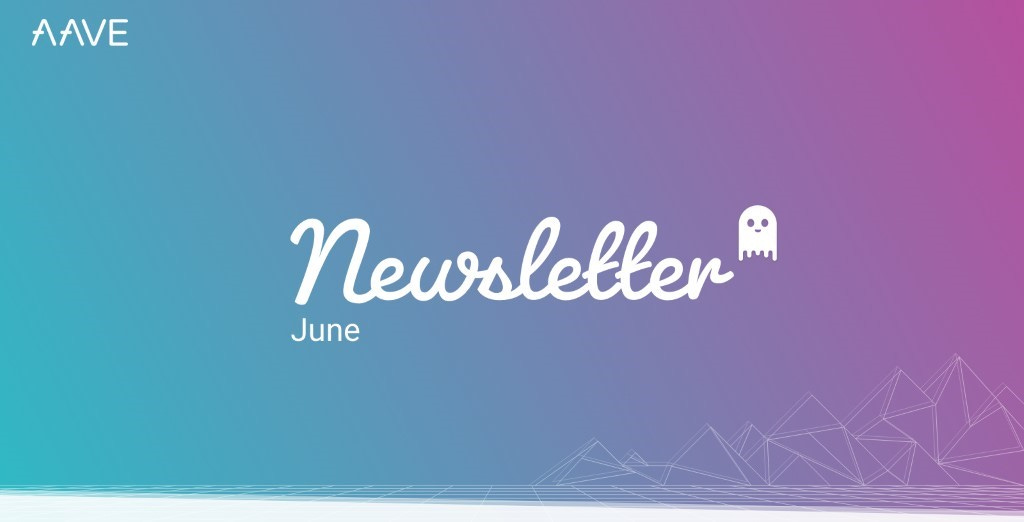 Hello Aave Community!
June was an incredible month, and we are proud to have celebrated the $100M market size milestone 5 months after launching on mainnet, record growth for the DeFi space. Every one of you reading this newsletter is an integral part of the Aave Fam, and we are thankful for your support <3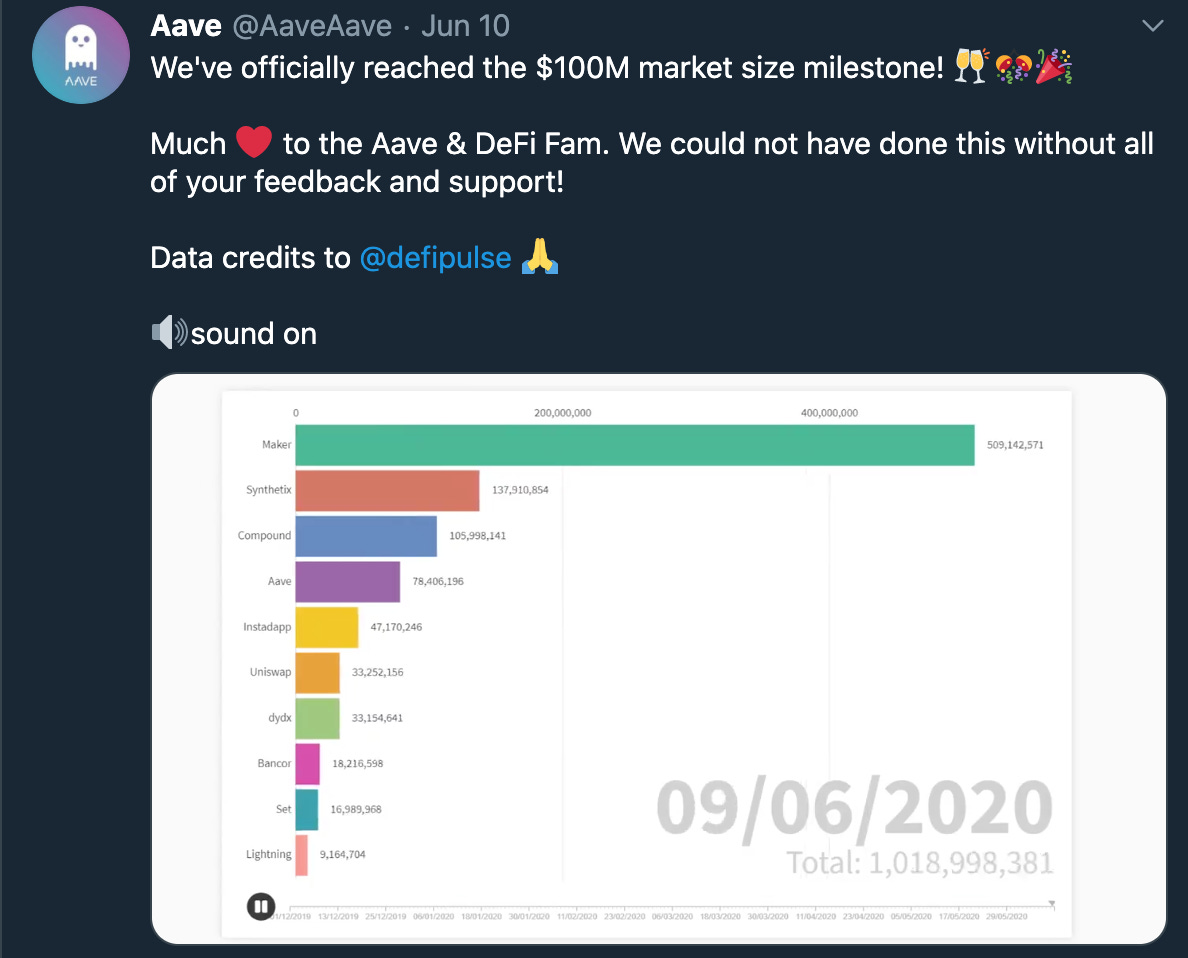 Technical & Development Updates
With the tremendous growth in Aave Protocol over the past 6 months, it is of the utmost importance for the protocol to remain as secure as possible. We are extremely confident in the security of Aave Protocol, but we want to be sure the protocol meets the highest security standards. Therefore, the Aave team decided to up the reward for any critical bugs found to $250,000! This is the highest bounty ever for a DeFi protocol. Read more about the Bug Bounty update here and check out all the bounty criteria here.  
Events & Community
Aave was thrilled to be featured in SEA DeFi Week, which highlighted a different DeFi technology each day. Check out Stani's intro to Aave here.  
We were also at Mainnet by Messari, and at BlockDown2020 where Stani was on the panel "DeFi: What does the future hold?" with some of the industry's top leaders. 
We are so proud of all the hackers who hacked on Aave at the Gitcoin and HackMoney hackathons! Check out our blog posts for the rundown on the coolest hacks.  
We co-hosted a Dev Meetup with Chainlink which dove into some of the winning HackMoney hacks. Find the full video here. Our 3rd Community Call also highlighted some recent hackathon winners from the HackMoney, Metacartel Dragon Quest, and the NYBW Gitcoin hackathons—check out the video to learn all about YieldHero, MagicBet, DeFi777, and HodlFactory.  
We had our first DeFi Debate on synthetic assets featuring the OG founders of Synthetix and UMA! The debate was moderated by Aave's own Marc Zeller, and you do not want to miss out on this in-depth discussion!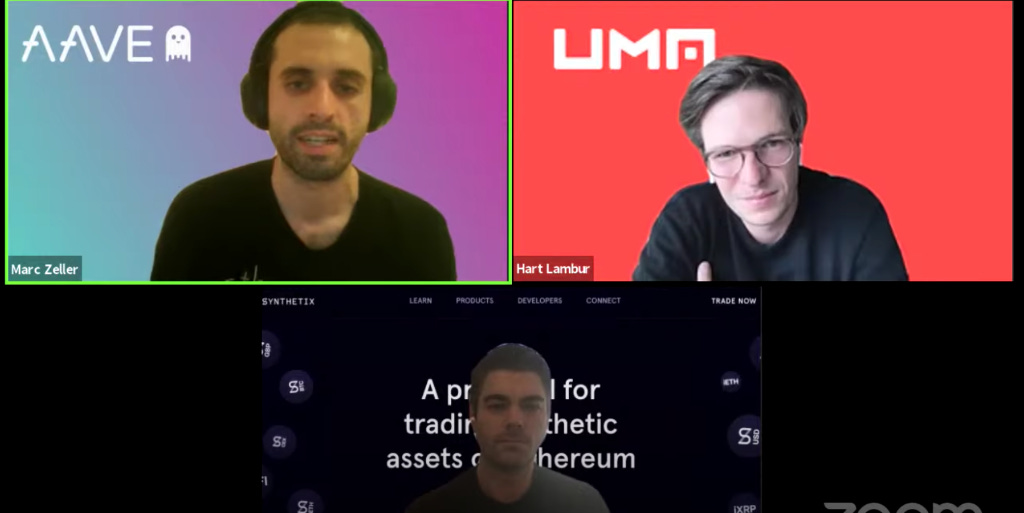 Debate "Synthetic Assets Explained" featuring Kain from Synthetix and Hart from UMA, moderated by Marc Zeller
June 8th was the anniversary of the first ever smart contract based loan on Ethereum with ETHLend! We've come a long way since then with a much sleeker UI/UX and more friendly user experience. Witness DeFi history here.  
Don't Miss Out On: 
Head of Support Pablo Candela's talk on the Uniswap Market, Governance, and Tokenomics (its in Spanish!)  
This AMA with CEO Stani Kulechov on the DApp List twitter
This DeFi event by Furucombo featuring Lilith Li, the newest member of the Aave team (in Chinese!) 
This Bankless AMA with Stani (you need to be a Bankless subscriber to read it!)  
YieldHero makes it possible to redirect your Aave yield to support the Crypto for Black Lives gitcoin grant! Try it out here.  
Join us and stay tuned... 
We are currently in the midst of the 8 week long Spark University Hackathon, which will run until 9th August, completely online! Can't wait to see what everyone will #BUIDL on Aave.  
Unitize begins 6th July—stay tuned for info on Stani's talk, and come say hi to us at the virtual Aave booth!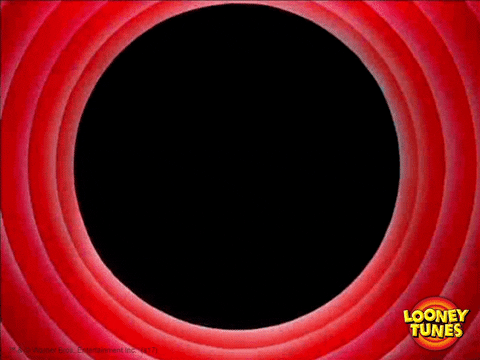 Follow us on twitter for the regular updates or jump into our Discord!  
Cheers,  
Aave  Team